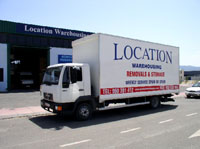 Packing And Containerised Storage
Forklift Service
Commercial & Household Storage Distribution Network Fully Insured Warehouse fully Alarmed
Car/Caravan And Trailer Storage
Long And Short Term Storage
International Removals
As with local removals, all goods are professionally packed prior to the move and carefully handled throughout. But if a local removal is stressful for the householder, consider the additional burden and worry associated with an international relocation. In addition to the unavoidable upheaval and uprooting, the logistics of the move are far more complicated and often licences, permits etc have to be obtained. Location Warehousing are well accustomed to resolving such issues and ensuring a smooth and problem-free move to your new country of residence.
The international division started with removals from the UK to Spain but its success has been such that the company is now expanding its operations into continental Europe, attracting more and more business from Germany, France, The Netherlands and Portugal. Removals are of course carried out in all directions between these countries and Spain.
A full, international door-to-door service is provided and if necessary goods can be stored either in the UK or locally in Spain whilst your new home is being built. For added protection and security, your property is packed into heavy duty, wooden containers whilst in store.